Fender system Design
Eversafe engineering specializes in the design and installation of fender system for port and oil&gas platform. With support of our parent company Evergreen Maritime, we can design most suitable fender systems for clients with customer-built products.
Eversafe engineering is devoted to the research of new fender system according to the the ever-changing needs of his clients. Cooperating with CNOOC (China National Offshore Oil Corporation) Eversafe engineering developed a innovative fender systems for oil platforms which prevent platform from shaking and shocking. The fruit is popularized to most oil platforms now in China. To resolve the hull pollution problem of Shanghai port, Eversafe's solution satisfied the port authority for its validity and safety.
Flow Chart of Designing Fender
Fender systems for marine structures are generally designed according to the following procedure: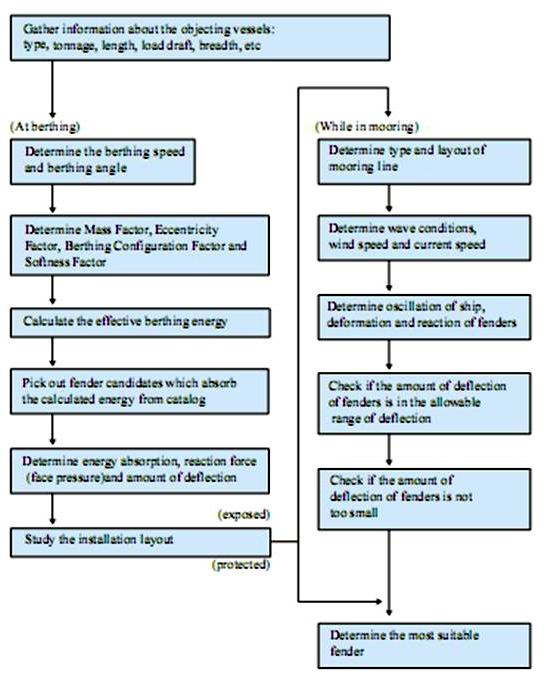 Design Standard
Following Standards and report are widely taken as design standard.
Technical Standards for port and harbour facilities in China
British Standard BS6349
EAU (German Standard)
Various informations about fender design are given by PIANC Report (Report of the International Commission For Improving the Design of Fender Systems)
Required information for fender system design
Type of vessel
Displacement (T)
Length (m)
Width (m)
Depth (m)
Load Draft (m)
Hull Pressure (ton/m2)
Berthing Speed (m/sec)
Berthing Angle ( degree )
Berthing Method (1/4 point or)
Drawing of the berth
Quick reference
The following graphs are included to provide a quick reference guide to fender selection and are only intended to be used to provide an indication of suitability. It should be understood that different approach velocities give very different absorption requirements. The tables must be used with discretion and with knowledge of the actual physical conditions for the fenders intended use. The tables are not suitable for fender selection for ship to ship operations.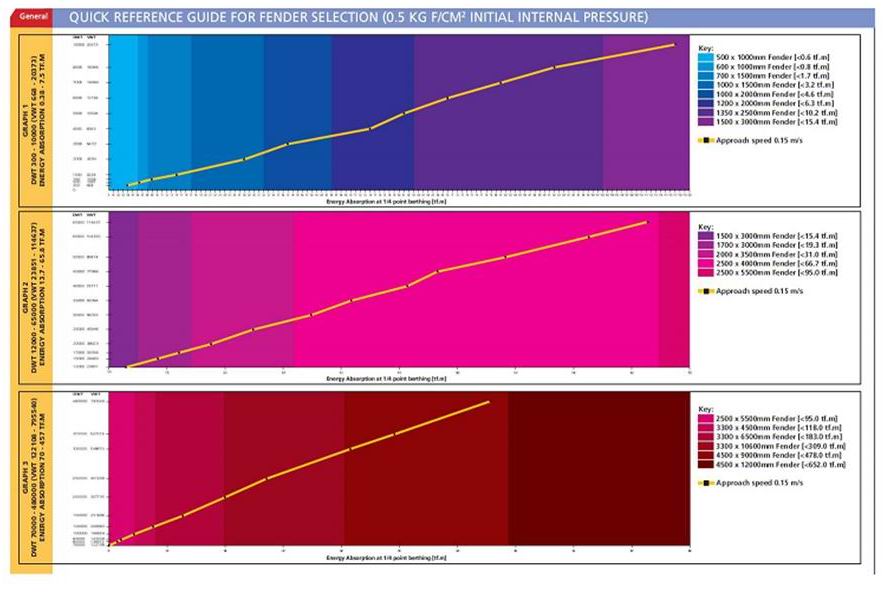 Meanwhile, fenders also can be selected tentatively by using the table in OCIMF Ship-to-Ship Transfer Guide; ''OCIMF Table Selection''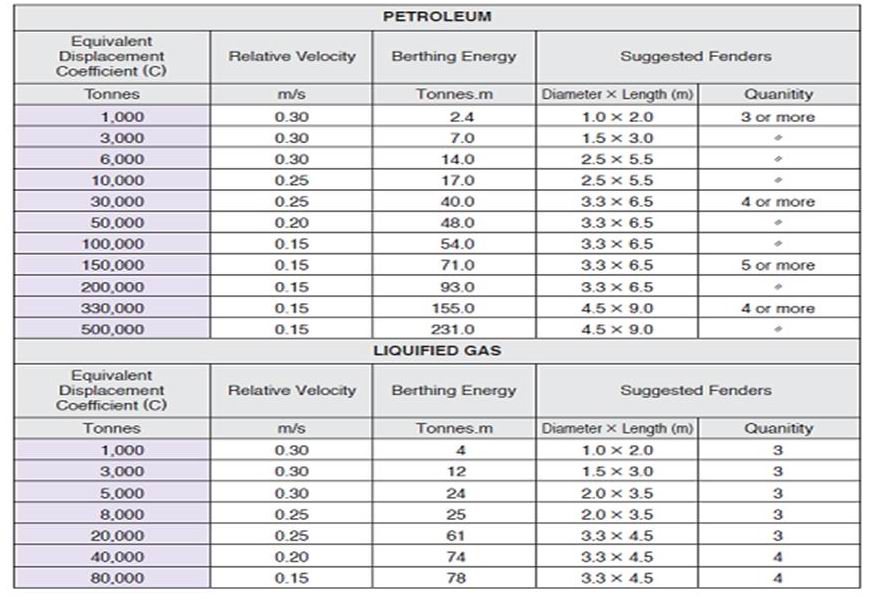 Fender System Installation
Ship-to-ship application
Four large-size fenders are usually floated at the water line as primary fenders to absorb impact energy at berthing and keep proper stand-off distance between two ships. Two small-size fenders (secondary fenders) are hung high on the hull at both bow and stern of smaller ship to prevent contact from rolling of ships due to swell and wind. "STS Transfer Guide", published by the International Chamber of Shipping (OCIMF), is a good reference for further information.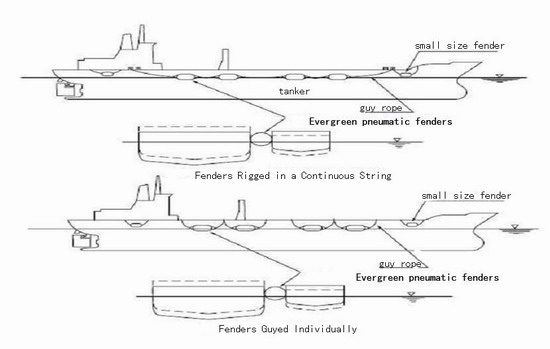 Ship-to-jetty application