Haul out Submarine with Marine Airbags
admin:admin time:2011-03-26
Marine airbags are often used for ship launching or hauling out. But most of those vessels are civil; no report of naval ships have be launched or hauled out by airbags before.
Once Eversafe Marine contracted a retired submarine haul out project which is said as the first submarine haul out projects with marine airbags.
A "33" type Chinese retired submarine is supposed to be hauled out and transported to a marine museum as an exhibition in Dalian City. That submarine gets 76.6 meters length, 6.7 meters width and 1300 tons weight (afloat displacement). Some experts valued that submarine as one billion Chinese Yuan.
The initial submarine salvage method is using caisson to hold submarine first then hoist it out of water by crane barge. But the cost is expensive and it needs a few months preparation. Inspired by airbag ship haul out technology the naval officers decided to employ marine airbags to achieve. Eversafe Marine Engineering company as the leading engineering company was invited to contract this salvage project.
Submarine gets round hull and narrow bottom which are not good for airbag working. The submarine will not keep the balance when it is part ground that is also a big difficulty. The third problem is unpaved landing ground which is natural sands may sink airbags.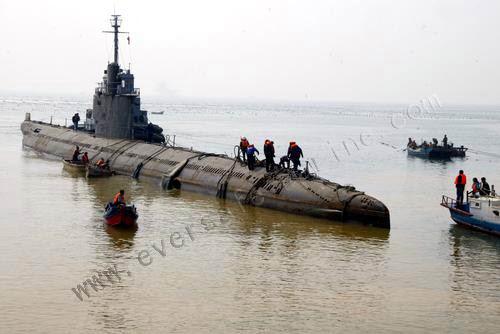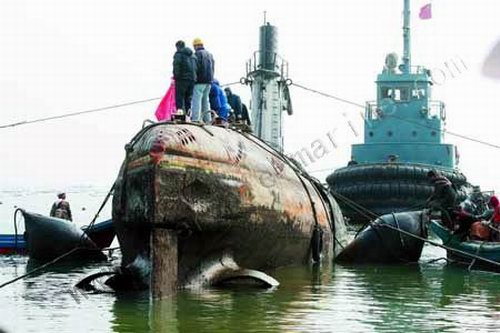 Four pieces deflated airbags were enlaced to the submarine hull first then two tugs moved the submarine to landing position. When the stern grounded first balance ropes from four anchor points pulling submarine to be balanceable. People began to attach pulling steel ropes to the pad eyes welded on submarine hull. Those four ahead enlaced airbags were pumped to lift stern. The submarine's narrow bottom made it difficult to lift stern by marine airbags so people had to insert more airbags to help the lifting. Also the round hull made many balance troubles. People had to adjust the balance ropes at each step of submarine moving forward. To make it worse when stern was landed about 10 meters airbags sunk in the sands and can not roll out. Four 50 tons winches made all their efforts to pull submarine move but failed.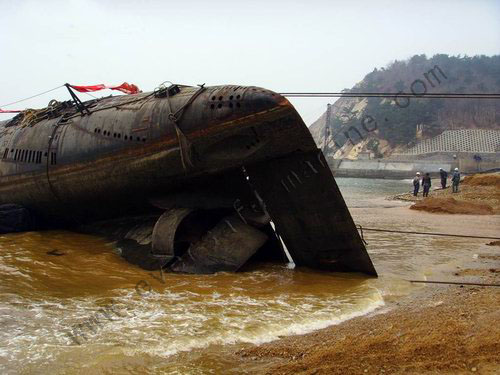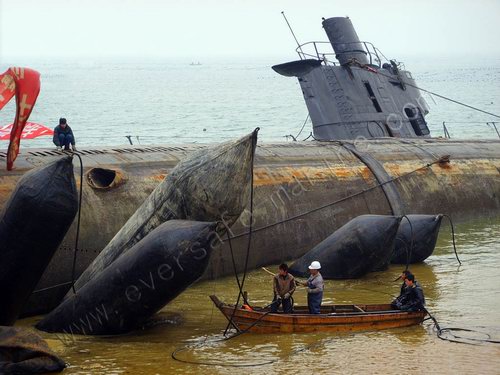 The next day in low tide time sand road was paved by steel plates and more airbags were added to lift and balance submarine. People began to pump airbags under stern when tide was high enough. Marine airbags with the support of steel plates lifted stern easily. Then submarine moved forward slowly by winch pull. With more percent of submarine landing the work became easier since more airbags were added to support submarine. Just the balance problem slowed down hauling process ,people had to adjust pressures of airbags after a few forward steps. It took total 3 days to haul out submarine fully.
Some steel brackets to support submarine stern were installed before submarine transport on the land. With the brackets structure airbags got more contact area to support and balance submarine. The submarine was moved 300 meters to the refit field. Then keel blocks were installed to support submarine and marine airbags were deflated to reclaim.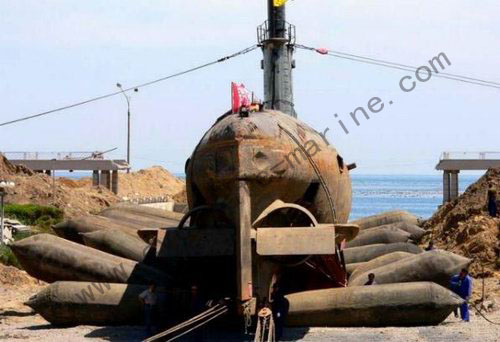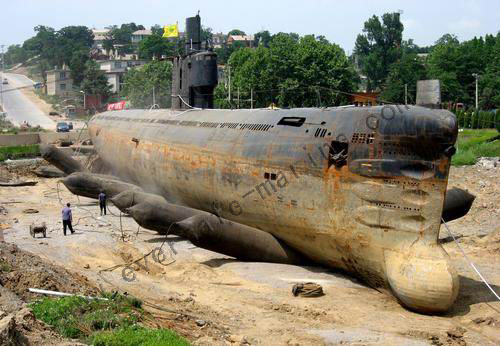 This project is the first naval submarine salvaged by marine airbags in the world whose meaning is significant. Marine airbags are used in more and more important marine projects which indicates airbag engineering technology reaches a new level of achievement. Think back this project could be done more smoothly if more preparation works had been done to the submarine structure research and enhancement of landing field.