Small boat salvaged by lifting airbags
admin:admin time:2014-01-12
Wenzhou Pavilion on Water also called Caifang is a kind of entertaining dragon boat with exquisite decorative Chinese dragon and one two-floor-pavilion. That traditional paddled long boat was rebuilt by a few entrepreneurs from wenzhou to show historic occupations of local people. The dragon boat weighs 40 tons, measured by 35 meters long ,4 meters wide and 4.5 m high. The total investment of the boat reaches 500,000 USD.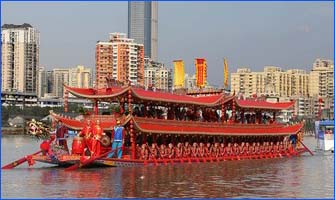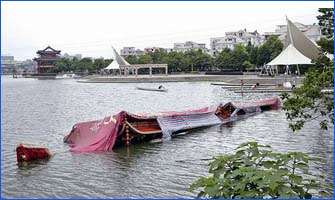 The boat made his virgin show in Wenzhou dragon boat festival held in 2012. Then it sunk in May 2013. The suspicious report said that once the watercraft was moored in Huichang Lake, the local dragon boat training base, some speedboats passed by rudely that caused splashed water rushed into boat. The witness said the boat sunk in 10 minutes.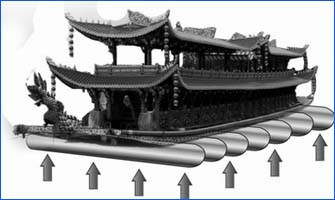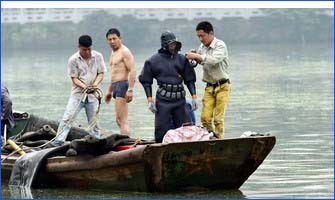 Inspired by Eversafe salvage airbags the owner decided to salvage his boat by his team. To salvage a 40 tons boat is not difficult but considering the fragile boat structure and budget the job was not going on smoothly.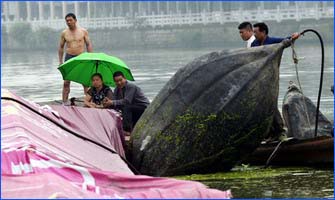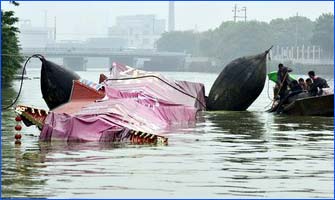 Total 8 pieces floating airbags with 1.8 m diameters and 12 m length were deployed to refloat the boat. Divers made the guiding rope get through mud under the boat first, then pull one airbag across boat bottom. Two hours later, two airbags were place in right position. By inflating the airbags rise 1/3 of boat out of water slowly. The left job became to be easy. When six pieces bags were settled well and inflated the whole boat was rise up from water.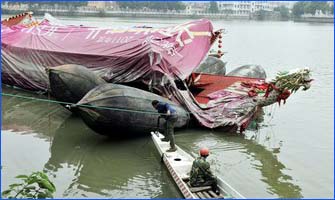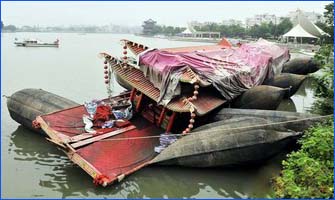 This is a simple salvage job totally performed by amateurs. It took five days to complete the job and the whole cost of salvage is 20,000 USD only, they say.