Eversafe Marine Provides Foam Fenders for CNOOC Hainan Wharf
admin:admin time:2015-03-16
Eversafe Marine has been awarded a contract to produce and supply more than 50 EverGuard polyurethane elastomer foam fenders to CNOOC Nanhai oilfield Hainan wharf, located in Haikou city ,Province of Hainan, China. Those fenders are part of a wharf upgrade project, headed up by CNOOC Zhanjiang branch.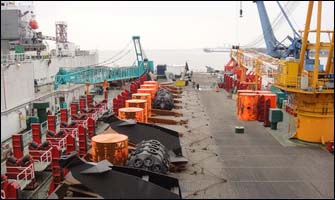 The improvement will enable Hainan terminal to meet the 30000000 Party of oil equivalent capacity and become the comprehensive support center pier for CNOOC western South China Sea oil exploration, development and production.
Low maintenance of Eversafe resilient foam filled fender is premier to the modern piers, its polyurethane elastomer is highly resistant to the effects of ozone and ultra violet light. Patented design of filament wraps and filament reinforcing ensure the unsinkable foam fenders have a super long lifespan, more than 10 years. Comparing with pneumatic fenders, Eversafe foam filled fenders is advanced for the soft bounce and free maintenance. They are reliable for most heavy jobs in fierce conditions.
Eversafe foam filled fenders meet all the demands of USACE ,NAVFAC and AFCESA, have good track record of serving global terminals and piers.