DWT 11000 Oil tanker launch with marine airbags
admin:admin time:2010-10-16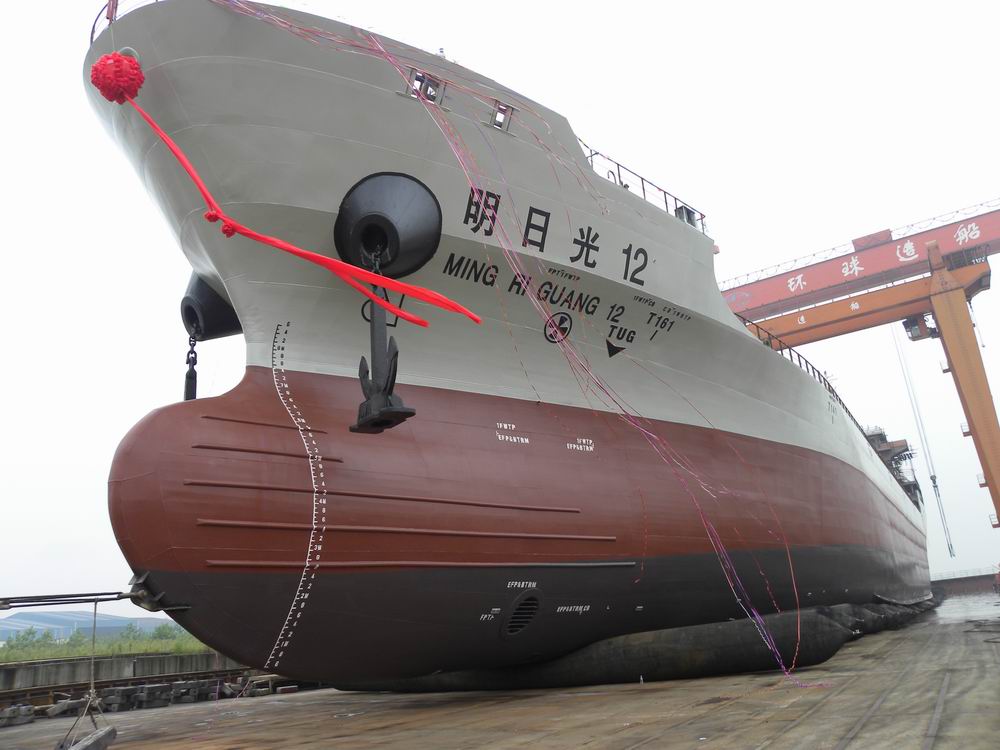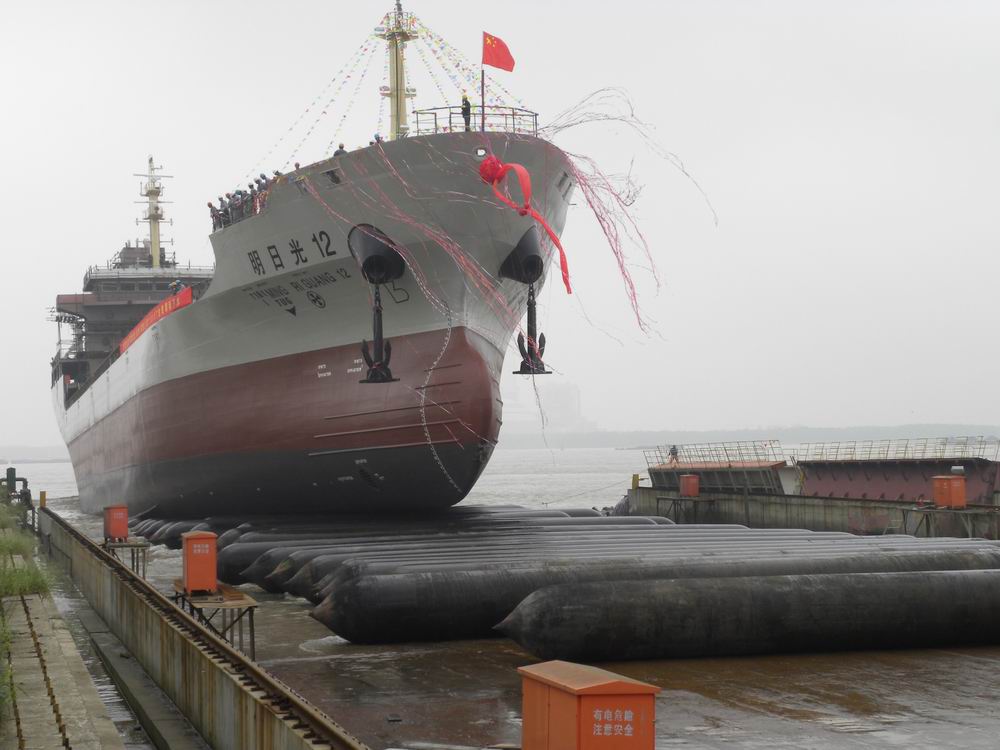 Eversafe Marine Engineering Company, the subsidiary company of Evergreen Maritime, is devoted to do marine engineering projects and gets a good track record. Eversafe holds the world records of airbag ship launch , the longest and heaviest vessel launched by airbags. Also Eversafe carried out many remarkable projects that prove his pioneer status in this industry.
on Sept. 15, 2010 ,Eversafe team successfully launched a Oil tanker with marine airbags for Jiangsu Huanqiu Shipbuilding Company.
The vessel named "Future Light" measures 142 meters by total length and 19.5 meters by molded breadth. Its launching weight reaches 4300 tonnes and has 3.6 meters draft at stern. The launching slipway has the variational slope: 12/1000 radian from vessel bow to the watergate, 25/1000 radian beyond watergate until end of slipway. The width of slipway also changes from watergate from 25 meters reduced to 12 meters. The average river water depth of watergate position is 0.8 meters. The distance between oil tanker stern and gateway is more than 30 meters.
The biggest difficulty of this launch projection is the special structure of slipway which may cause the vessel incline to one side or run into dock when it pass by the 12 meter width slipway part. No time to rebuild or do any remediation work to the slipway. The only possible launch solution is using Evergreen airbag launching technology.
Eversafe engineers researched this project for two weeks, from calculation to digital simulation by software. At last we found by adjust the gravity distribution of oil tanker can remedy the inclination moment when vessel pass by the 12 meter width slipway part. To reassure ship owner we also suggest the installation of two Evergreen pneumatic fenders on the dock. The discussion meeting with shipyard and ship owner is cheerful, all people here think the launch proposal is the best and safe way that we can do at that time.
According the scheme the oil tanker will be moved toward river for 20 meters by marine airbags then laid on marine airbags until next day morning when the water reaches appropriate depth.
At Sept. 14, Eversafe team completed the move forward work using 42 pieces YT-6 Evergreen marine airbags that have 1.5 meters diameters and 18 meters length. The next day 8 am people begin to adjust the air pressures of marine airbags to make vessel inclined with right angle. At 9 am the launch water area is blocked and two tugboats are ready. With the shot of starting gun the pulling steel ropes are cut down and oil tanker enter into water straight forwards with the rolling marine airbags and anchor at the appointed place after total refloatation. Hails from people and fireworks which resound across the sky accompany the magic launch process. There is no splash of water, no stern or bow fall off, no decline to one side phenomena happen during the launch.
The success of this marine airbag ship launch project verifies Evergreen airbag launch theory again. Without accurate calculation people can't complete the launch on defect slipway so smoothly. For shipyard and ship owner they are glad to deliver or get oil tanker on time without extra cost of slipway repair or employ launch barge.
Evergreen airbag ship launch technology is invented initially for emergency launch such as during war or nature calamity period people can launch vessel without constructed slipway. Nowadays this ship launch technology is developed into a very flexible and effective solution and sometimes it becomes an essential for launch under imperfect condition.