Landing craft launched with marine airbags by Strategic Marine
admin:admin time:2010-10-17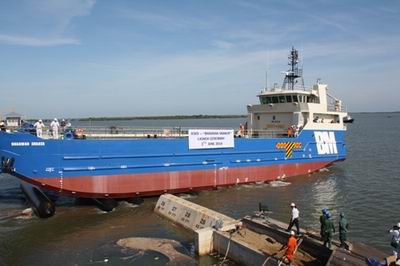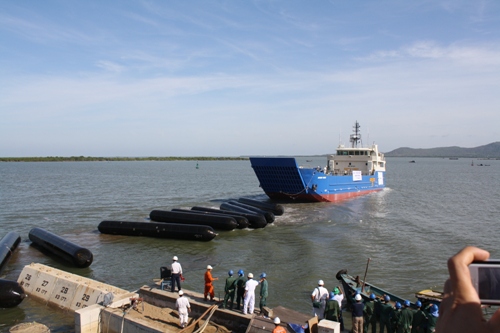 Strategic Marine has delivered a 48.5 metre landing craft which will service the Australian offshore oil and gas industry and major projects including the multi-billion Gorgon Project.
The vessel, built for local Western Australian marine operations company Bhagwan Marine, will be used in Western Australian's north-west hydrocarbon province and has been designed by International Maritime Consultants, to accommodate for low incline beach landings.
The craft's design features a low angle bow to enable heavy equipment to be driven over the ramp door and with a 12.8 metre beam, the vessel can accommodate up to ten 20-foot containers with a maximum payload of 400 tonnes.
Although a multi-cargo vessel, it will be primarily used to transfer building and construction equipment in the areas around Dampier, Onslow and Barrow Island while an added advantage is its economical fuel consumption of about 150 litres per hour at 10 knots cruising speed.
The vessel, named "Bhagwan Shaker" after its sister vessel "Bhagwan Mover", was built at Strategic Marine's largest shipyard at Vung Tau .Strategic Marine will also build a second 40 metre crew boat on speculation after the first 40 metre crew boat the company built on speculation was purchased by Tiong Woon.Like the first 40 metre vessel, due for delivery around October 2010, the second 40 metre vessel will incorporate a central deck house with seating for 50 rig crew and will reach speeds of 25 knots.It will be a sister ship to 14 similar vessels delivered to a number of clients over the past five years.
Strategic Marine's Vietnamese yard successfully launched the first 143 m DSV using airbag ship launching technology at April 2010. Then this innovativeship launch solution is found to be safe,flexible and effective. So the landing craft is decided to launch with marine airbags also.
The company is currently contracted for more than 25 vessels at its yards in Australia, Vietnam and Mexico and Singapore, equating to approximately $100 million (AUD) worth of orders.