Ship Launching Airbags, basic body consists of outer rubber layers,synthetic-cord-reinforced rubber layers, are kind of a sausage-shaped pneumatic balloon. All of these are vulcanized together, and then compress air inside to enable in to roll.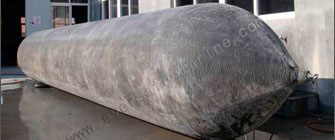 1. Outer Rubber
The outer rubber layer that covers the outside of ship launching airbags protects the cord layers from abrasion and other external forces. This compound has sufficient tensile and tear strength to withstand any weather condition and hard usage.
2. Synthetic-tyre-cord layer for reinforcement
The reinforcement cord layers are composed of synthetic-tire-cords commonly used in tires and modified rubbers. Cords are arranged at ideal angles to hold the internal pressure and to distribute the stress evenly providing strong efficient reinforcement.
There're two types of synthetic-tire-cords used in Eversafe ship launching airbags to achieve best performance.
3. End Fittings
Standard specifications of Ship Launching Airbags

Diameter (D) : From 0.8m to 2.0 m.
Effective Length (EL) : From 6m to 22 m.
Total Length (TL) : From 7m to 24 m
The above specification only is our standard specification arrange. Other specifications of ship launching airbags are also available upon clients' request.
Airbag Plies (layers)

We define the number of layer, which means the number of Synthetic-tyre-cord layers, in order to confirm the Safety Working Pressure. Normally, Eversafe Airbags include 4, 5, 6, 7, 8 layers types. Other types is available upon clients' request.
Synthetic-tire-cord of Ship launching Airbags
Quick reference table
Work pressure Scope (Mpa)

Work pressure Scope (Mpa)
Principle for ship launching airbags selection

Length
Select the airbag's effective length not less than the maximum width of vessel or anything you want to move by airbags. But when you arrange two rows of airbags keep in mind to calculate the total length to avoid contact of airbags in two rows. The total length of airbags can be estimated to be effective length plus diameter. It says an airbag whose effective length is 16 meters and diameter is 1.5 m then its total length is 17.5 m.
Diameter
Diameter of airbag is decided by the height of your vessel's support blocks. If the support block is 1 m high, then you should choose airbag's diameter not less than 1.5 m. If you get 1.5 m high blocks, the airbag with 2m diameters will suits you well.
For air lift use, airbag's diameter or length is mainly decided by the buoyancy you need from airbag. And also consider the pressure of airbag stands if you apply airbags in deep water. For caisson transport by marine airbags, the most suitable diameter is 0.8-1 m.
Plies
Marine airbag's performance is decided by its component plies. For air lift use or light vessel (launch weight below 2000 tons) launch,mid-pressure airbags are enough. For heavy duty work, the high pressure airbag should be selected. Generally speaking, airbags with 6 plies are enough for most engineering works. Only in some rigorous situation, airbags will need 7-8 plies to enhance its performance. For example, if people use airbags to lift heavy caisson but their contact area is limited, then airbags will need higher pressure and more plies to ensure the safety.