The second 50 m Utility Vessel launched for Unithai
admin:admin time:2018-04-28
On 4th April 2018, the second 50 m long Utility Vessel was successfully launched in Unithai shipyard and Engineering LTD. The vessel has same size with last one launched in December 2016, measured by 50 long, 15 m wide and 6.2 m high, with 1380 tonnes launching weight. But this time, the vessel needs to move a longer distance before launching, about 240m.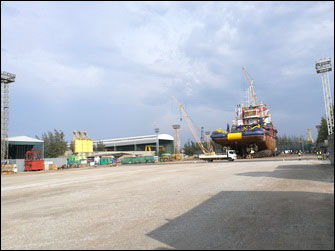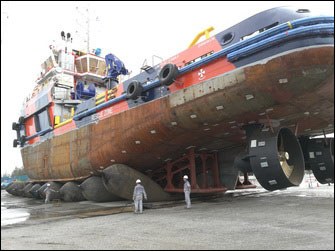 Moving vessel from construction position to final launch position will pass 160 m flat ground then 80 m downward slope with increasing angles. For vessel transport on flat ground, two crawler cranes are deployed to pull and hold vessel respectively. When vessel reaches the slope, winch will be used to hold vessel together with crawler crane.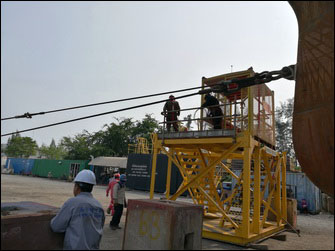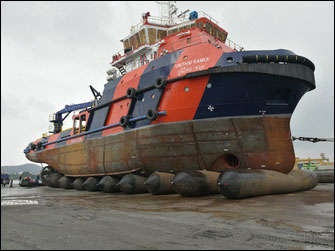 This time the yard built a safe tower for wire ropes cutting people to ensure the safety.
With the experience of first vessel launching, Unithai yard did a very good preparation and assistance work for the second launching. One 29th March, Eversafe Team completed the vessel lifting and also moved vessel forward 8 m within one day. Next day, we completed another 100 m vessel moving. Install winch foundation and winch system took another day. On 3rd April the vessel was moved to its final launching position.In the morning of 4th April, when water reached required level , vessel was released for launching. With rolling airbags, vessel entered into water and refloated smoothly.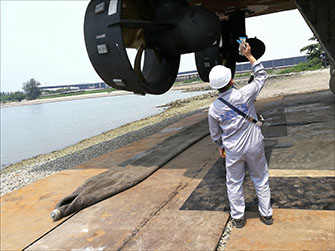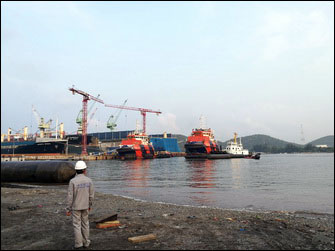 The March and April is the hottest two months in Thailand. Eversafe Team dripped with sweat all days, they just spent the Spring season in China, not got ready for the hotness yet. Besides the weather, a grief depressed the team. The team leader's mother in law passed during project time. She is a great mother, an extraordinary women. May her soul rest in peace.
At last we want to give our thanks to the management and project team of Unithai shipyard and Engineering Ltd. The professional ability, remarkable implementation, cohesive and enterprising spirit of the company impressed us much.