Over years, accumulating the manufacture experience and material technology Eversafe Marine produce superior marine airbags (ship launching balloons) by patented holistic enlacing technology.
Also Eversafe Marine as the professional engineering company use marine airbags (ship launching balloons) to do projects then Eversafe knows what's best air bags for engineering. Eversafe improves his airbags to fit for purpose continuously.
Eversafe Technical Advantages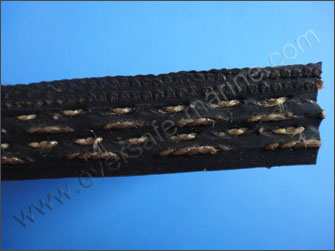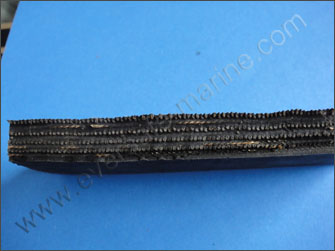 Slice of Eversafe airbag Slice of common airbag
♦ Patented rubber formulas. For different rubber layers Eversafe design different formulas to enable airbags get superior air tightness and anti-aging performance. One regular 6 plies Eversafe airbag employs 4 types' rubber sheets.
♦ Patented structure design. Reinforcement layers are wrapped in a helical pattern, at a special helix angle to the longitudinal axis of airbag body. Each wrap extend along the entire longitudinal axis of the airbag and also encase end fittings to secure them to the airbag body. Every two adjacent layers wraps have equal but opposing helixes.
♦Special intertexture filaments. Ultra strong synthetic-tie-cords are employed as filaments. Special intertexture filaments can restrict unwanted airbag elongation when it is pumped.
♦ ISO 9001 approved standard manufacture process.
You can never find below phenomena happen to Eversafe air bags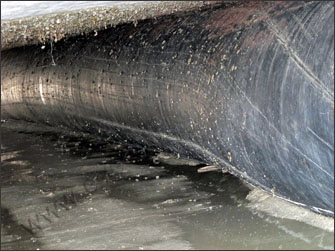 Specifications of Eversafe Marine Airbags
Standard specifications of Eversafe Marine Airbags
Diameter (D) : From 0.8m to 2.0m.
Effective Length (EL) : From 6m to 18m.
Total Length (TL) : From 7m to 19.5m
The above specification only is our standard specification arrange. Other specification of ship launching airbags also available upon clients' request.
Standard number of plies (layers)
We define the number of layer, which means the number of Synthetic-tyre-cord layer, in order to confirm the Safety Working Pressure. Normally, Eversafe Marine Airbags include 4, 5, 6, 7, 8 layers types. Other types is available upon clients' request. Read More: Specifications of Eversafe Marine Airbags
Performance of Eversafe Marine airbags
Marine airbag's performance is different when it is slow or quick compressed. Slow compression is treated as isothermal compression and quick compression regarded as adiabatic compression. In the practical calculation, people take airbags'compression as dynamic compression when ship moves into water with airbags and in heavy lifting process regard it as static compression. Read More:Performance of Eversafe Marine airbags
Test and QC
There are two industrial standards for ship launching airbags
CB/T 3837-1998 Technological Requirements for ship Upgrading or Launching Relying on Airbags
(Shipbuilding Industry Standard, PRC)
CB/T 3795-1996 / CB/T 3795-2009 Air bag for ship up to or down to launching way
(Shipbuilding Industry Standard, PRC)
But people may find that the standards have the low demand of ship launching airbags considering nowadays the increasing launch demand. Read More:Test and QC
Various Application of Marine Airbags
Ship launching airbags also called marine airbags were invented by Chinese for emergency ship launching in 1990s.Over the past twenty years, ship launching airbags have made great advancements in the manufacture and applications.
Nowadays marine airbags are widely used for ship launching or landing ,caisson conveying and marine salvage projects.It is estimated that more than 80 percent new built ship whose DWT below 60,000 and about 50 percent caisson fabricated for gravity quay are launched by marine airbags in China.Not only in China but also other countries marine airbags are acknowledged as the powerful and versatile tool for marine works. Read more : Various Application of Marine Airbags