Eversafe Marine helped PT DRU shipyard launched the 2nd oil tanker
admin:admin time:2018-08-09
On July 25th , MT. Papandayan, the second DWT 17500 oil tanker ordered by PT Pertamina was successfully launched into sea with marine airbags in DRU Lamongan yard. Evergreen Maritime (group) offered 44 pieces marine airbags for this launching. His subsidiary, Eversafe Marine Engineering CO.,LTD provided the engineering service, from slipway design, launch procedure calculation and final on site launch supervision.Two years ago Eversafe Marine, helped PT DRU launched his first DWT 17500 oil tanker, named MT. Panderman, in Lamongan yard.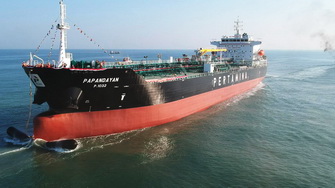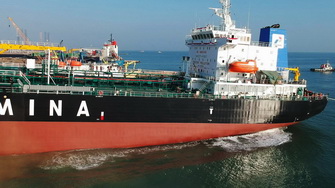 Behind-the-scenes
Behind every launch there are some stories, that will not fade from memory later on.
During the MT. Panderman launching, an unexpected storm destroyed launching slipway two days before the final launch date. Engineers from yard and Eversafe Marine gathered together to seek for solutions urgently. Limited resource, tight schedule, everybody involved in the project felt big pressure. At last both sides reached an agreement over a remedy solution. More divers , excavators came from outside, shipyard workers who are good at swimming entered into water also to help removal of stones and placing sand bags to reinforce slipway.
By an overnight hard working, the slipway for MT. Panderman launching was fixed. The final launching is satisfying, the tanker was smoothly launched into the sea without any surprise.
Headache
The slipway (launch ramp) prepared for MT. Papandayan launching is totally different from MT Panderman. Last time we got underwater part of slipway, even it is not very good. This time no underwater slipway totally. It is a surprise to Eversafe Marine engineers.
Anyway this time we have lots of jumbo bags, it is a great consolation to worried engineers. At last both sides agreed a solution to extend current slipway, by placing jumbo sand bags underwater for 5 meters long.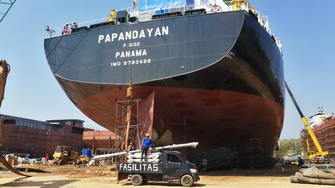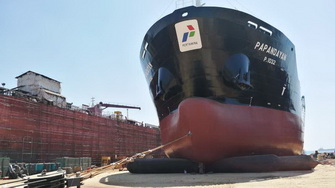 Solution
MT. Papandayan with 6700 MT lightweight measured by 157 meters long, 28 meters wide, 12 meters high. Those 5 m long underwater ramp is a compromise between limited resource, time and safety. It can reduce the abrupt-dropping of vessel stern during the launching.
The DWT 17500 oils tanker was moved forward for 30 m on 23rd July, adding 800 tons ballast water the next day. In the morning of 25th July, MT. Papandayan was released for launch. With assistance of tugboat and bulldozer, the huge oil tanker entered into water successfully.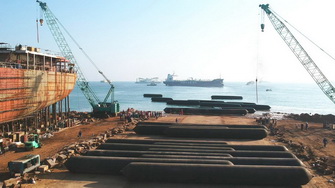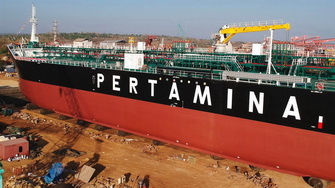 Hope
Due to big tolerance of airbag launching, sometimes clients don't pay attention to the slipway construction. As the launching problem fixer, Eversafe Marine can only don't leave a stone unturned, try their most to get the best results from the compromises.