The 85 m catamaran RoPax ferry launched with marine airbags
admin:admin time:2019-03-06
Alfred H765, IMO number 9823467, the 85 meters long, 22 m wide RoPax, can carry 430 passengers in comfort and up to 12 x Semi Trailers / Lorries with 54 cars or 98 cars in total. At 15:00 hrs on Friday 22 nd February 2019, this 85 m catamaran passenger ferry was successfully launched into warm sea of where the vessel was built, Vung Tau, Vietnam.It is the biggest catamaran RoPax ever be launched with marine airbags.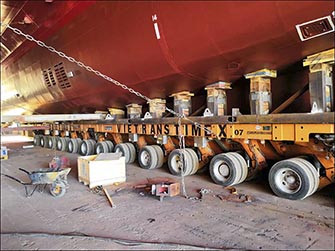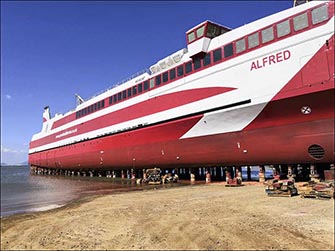 Built by Strategic MarineVietnam shipyard for Pentland Ferries, Alfred will service the Orkney Islands to and from the main land of Scotland, UK. The vessel powered by four YANMAR 6EY17W engines will travel at a service speed of 16 knots. She has space to accommodate 50,000 litres of fuel plus an extra 50,000 litres in a long-range fuel tank.
Stategic Marine Vietnam shipyard launched three catamarans in two months. As for the first two catamarans launching please refer: http://eversafemarine.net/project-detail/strategic-marine-vietnam-shipyard-launches-two-70-m-lng-aluminium-catamarans/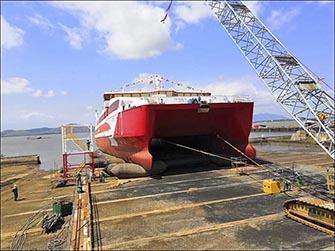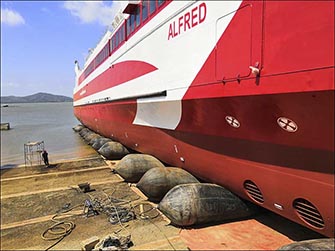 Catamaran passenger ferry doesn't have good structure for airbag launching, the V-hull, thin low bow and stern, need elaborate airbag arrangement and higher performance of unit airbag compared with common cargo ship or barge launching.
Eversafe Marine Engineering CO.,LTD as the launching consultant, offered the launching design ,calculation and supervision for Alfred catamaran Ro/Pax launching.Same with Hull 387/388 launching, the 85 m catamaran RoPax needs to be moved from workshop to slipway by SPMTs first. Then with ship launching airbags, the catamaran will be lifted up from keel blocks and rolled down to final launching position in low tide time.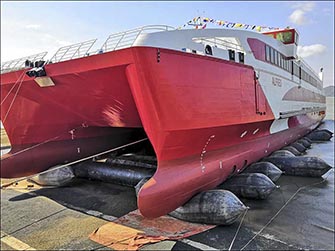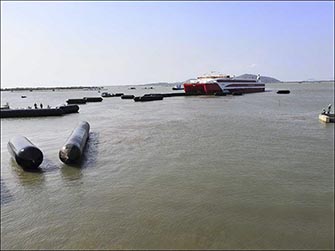 The half concrete launching slipway is constructed with a 1.72 degree slope angle, the elevation of end of slipway is 1.4 m.
One 120 T crawler crane is deployed to control the movement of Hull 765, while crane moves forward, the vessel will moves by the slipping force from its gravity. Total 30 pieces ship launching airbags are deployed for the catamaran lifting and launching, include 22 pieces 2 m diameter by 6 m long airbags and 8 pieces 1.8 m diameter by 16 m long airbags.
The launching preparation work took around two days,most of works need to be done in low tide time when is the early morning in Vun tau Vietnam. Mr. Jia , the service engineer from Eversafe Marine engineering CO.,LTD said" It is a trial of both physical and mental power to perform Hull 765 launching. Everyday the launching team had to get up in 4 am and worked for 6 hours without stop. Or else the water will come up and can not work anymore. Everystep of the launching procedure needs to be calculated carefully, both the catamaran structure and ship launching airbag safety concern people. The success of Hull 765 launching is the efforts of all involved teams' hard working."
The calculation of ship launching with marine airbags is vital for special vessel's launching, especially those whose structure strength is not very strong. The cost of ship launching can be dramaticly reduced when do it with airbags. Life span of ship launching airbags is six years and airbags can be repaired easily if they get puncture, so they are getting so popular in maritime industry.